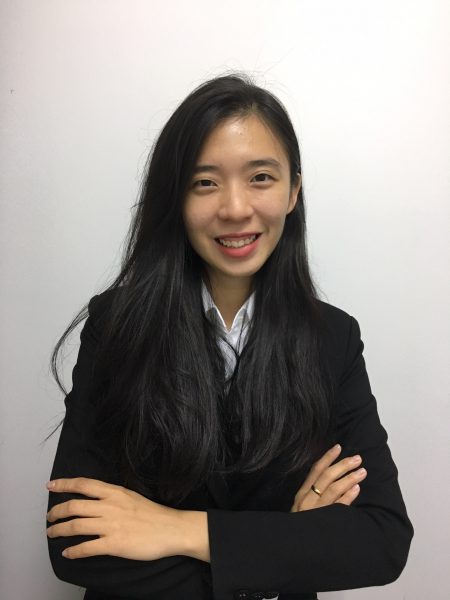 Associate
LL.B(Hons) Aberystwyth
Certificate in Legal Practice (CLP)
Deputy Head Corporate Litigation Department
Deputy Head Probate & Administration Department
Family Law Department (Custody)
Commercial Agreements Department
Ern Hui graduated from the University of Aberystwyth, Wales with LL.B(Hons) in 2014. Ern Hui obtained the Certificate in Legal Practice (CLP) in 2015.
She worked in Brickfields Asia College, KL Campus as an Account Assistant, reporting to the Head of Accounts Department during her Tertiary Education for four years. She then chambered with Messrs Kavi & Co in 2015 and was exposed to Civil Litigation matters such as Employment matters, Probate & Administration, Debt Recovery, Director disputes, & Personal Injury claims, Family matters, Commercial matters such as Buy Share Agreements & Partnership Agreements. She later joined Messrs Mathews Hun Lachimanan as an Associate and was exposed to Corporate Litigation matters. She then joined Messrs Joshua & Associates as an Associate in November 2017 to assist in Probate & Administration Department (Malaysia – Central Zone of Semenanjung Malaysia), Corporate Litigation Department, Family Law Department (Custody) & Commercial Agreements Department. She was appointed as Deputy Head of the Corporate Litigation and Probate & Administration Department in 2018.
Ern Hui is also the Operation Assistant Manager of Pewaris Taekwondo Club on a part time basis since 2015. She enjoys hiking and Taekwondo during her weekends. Currently, she is also learning Korean Language to enhance her communication skills.
Ern Hui is in charge of the internal growth of Legal Interns attached to the firm in particularly the area of Estate Administration and the transfer of properties related thereto. She conducts internal seminars for the Legal Interns and new staffs to ensure the standards of legal service of the firm are complied with.
Education
| | |
| --- | --- |
| 2015 | Certificate In Legal Practice (LPQB) |
| 2014 | Bachelor of Laws (LL.B), Aberystwyth |
Career
| | |
| --- | --- |
| 2017 – Present | Messrs Joshua & Associates |
| 2017 | Messrs Mathews Hun Lachimanan |
| 2015 – 2016 | Messrs Kavi & Co |
| 2011 – 2014 | Brickfields Asia College |
Affiliation
Associate at Messrs Joshua & Associates
Advocate & Solicitor of the High Court of Malaya
Member of the Malaysian Bar
Member of the Johor Bar
Member of Pewaris Taekwondo Club
Legal Experience and Expertise
Successfully conducted Hearings for corporate litigation matters from Magistrates court to Sessions court.
Successfully conducted Hearings for Custody Order applications involving foreign spouses from China, Indonesia and Myanmar.
Successfully conducted Hearings for various Grant of Probate applications, Letter of Administration applications and Small Estate Distribution applications all around Peninsular Malaysia.
Successfully conducted various Divorce applications.
Attended to the preparation of Tenancy agreements and Sale & Purchase Agreements.
Oversaw the Perfection of Transfers, discharge of charge and receipt & reassignment cases.
Attended to the preparation of Transfer applications involving Love & Affection consideration or upon obtaining the Grant of Probate / Distribution Order to the intended beneficiaries.
Attended to the execution of an Anton Pillar Order against book Publisher as the Supervising Solicitors appointed by the High Court.
Attended to the drafting and execution of various Power of Attorney including Foreign Clients from United Kingdom.
Ern Hui can be contacted by email at ernhui@legalkuan.com
Legal Team members under Ms Ern Hui:-
Ms Zync Yap (Senior Legal Clerk)
Ms Quek Jia Yee (Paralegal)