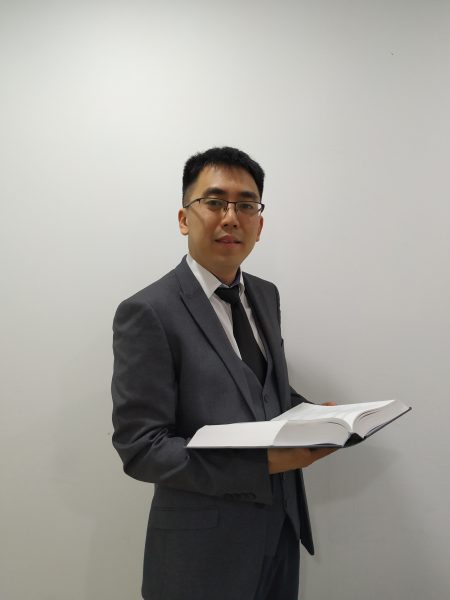 Founder of Messrs Joshua & Associates
LL.B(Hons), UWE
Certificate In Legal Practice (CLP)
Dip. Int. Arbitration
Cert. Mediation
Joshua Kuan graduated from the University of West of England, Bristol with LL.B(Hons) in 2009 and also completed his Diploma in International Arbitration (Brickfields Asia College) in 2011. He worked in Malaysian Assurance Alliance (MAA) as a Claims Examiner in the Bodily Injury Claims Department (Motor) where he assesses Bodily Injury Claims and negotiates direct settlements with Third Party Lawyers all around Peninsular Malaysia. Joshua obtained the Certificate in Legal Practice (CLP) in 2011. He was an Affiliate member of the Malaysian Institute of Arbitrators (MIArb) in 2010. Later in 2012, he received Member status. In November 2015 he was appointed as an accredited Mediator for the Malaysian Mediation Centre (MMC). In September 2016, he was appointed to serve on the Child Rights Committee of the Bar Council for 2016/2017 term. He continued to serve for the 2017/2018, 2018/2019, 2019/2020, 2020/2021 & 2021/2022 term.
He chambered with Messrs John Yong & Irene Song and was exposed to Banking Litigation such as Foreclosure matters, Bankruptcy and Companies Winding Up Proceedings and General Civil Litigation. He later joined Messrs Wong Choo & Partners as a Lawyer and was exposed to General Civil Litigation, Commercial Litigation, Construction Litigation, Probate and Administration matters, Drafting of Settlement Agreements, Guarantor & Indemnity Agreements, Tenancy Agreements, Employment advisory, Personal Injury and Fatal Claims, Mediation and Arbitration. Joshua has also attended and completed the Yayasan Bantuan Guaman Kerajaan (YBGK) seminars and is also a panel Lawyer for YBGK handling Criminal Litigation. He has also further completed the Mediation Skills Training Course under the Malaysian Mediation Centre (MMC) and is also an accredited Mediator. Joshua founded Messrs Joshua & Associates in 2014 at Puchong, Selangor and expanded the firm in Penang (2018), Kelantan (2019) & Johor (2020).
Joshua is also a Lecturer in Infrastructure University Kuala Lumpur (IUKL) on a part time basis since 2011 where he lectures Contract Law, Sales Of Goods Act, Agency Law and Partnership Law. He was then invited in 2021 as a Tutor in Multimedia University, Malacca (MMU) where he tutors on Alternate Disputes Resolutions. He also teaches Taekwondo and officiates Taekwondo Championships as a Referee during the weekends. This allows him to better understand and handle people from all walks of life. In March 2015 and June 2015, Joshua was appointed as the Legal Advisor and Honorary Secretary General of the Taekwondo Kuala Lumpur State. In May 2016, Joshua completed the International Referee Course (WTF) held in Bonn, Germany and is now a qualified International Referee (WTF) representing Malaysia. He was appointed as the Secretary for the Technical Committee and Referee Committee for Taekwondo Kuala Lumpur for the term 2021/2022.
Joshua has also conducted various legal seminars on Probate & Administration, Family Law, Business Law, etc throughout Peninsular Malaysia where his seminars are surrounding the area of Estate Administration of a deceased's estate and issues related thereto. He provides legal advices to Estate Planners, Financial Planners, Will Writers, Insurance Agents, Casket & Funeral Service Agents, NGOs, and various societies.
During his legal practice, he has assisted more than 3000 clients in administering their deceased's estate and have provided them not only the legal solutions but also the practical solutions from his vast experience of cases.
Education
| | |
| --- | --- |
| 2015 | Certificate in Mediation (MMC) |
| 2011 | Diploma in International Arbitration (BAC) |
| 2011 | Certificate in Legal Practice (LPQB) |
| 2009 | Bachelor of Laws (LL.B) (UWE,Bristol) |
Career
| | |
| --- | --- |
| 2014 – 2020 | Messrs Joshua & Associates |
| 2013 – 2014 | Messrs Wong Choo & Partners |
| 2012 | Messrs John Yong & Irene Song |
| 2011 | Malaysian Assurance Alliance Berhad (MAA) |
Affiliation
Founder of Messrs Joshua & Associates
Advocate & Solicitor of the High Court of Malaya
Accredited Mediator of the Malaysian Mediation Centre (MMC)
Member of the Malaysian Bar
Member of the Selangor Bar
Member of the Penang Bar
Member of the Kelantan Bar
Member of the Johor Bar
Member of the Malaysian Institute of Arbitrators (MIArb)
Member of Yayasan Bantuan Guaman Kerajaan (YBGK)
Member of the Child Rights Committee (Bar Council) 2016/2017
Member of the Child Rights Committee (Bar Council) 2017/2018
Member of the Child Rights Committee (Bar Council) 2018/2019
Member of the Child Rights Committee (Bar Council) 2019/2020
Member of the Child Rights Committee (Bar Council) 2020/2021
Member of the Child Rights Committee (Bar Council) 2020/2021
Member of the KLSCCI Youths Committee
Legal Advisor of Taekwondo Kuala Lumpur 2015/2017
Secretary General of Taekwondo Kuala Lumpur 2015/2017
Council Member of Taekwondo Kuala Lumpur 2020/2021
Secretary of TEC Committee of Taekwondo Kuala Lumpur 2020/2021
Secretary of Referee Committee of Taekwondo Kuala Lumpur 2020/2021
Council Member of Taman Yarl Alumni Association
President Pewaris Taekwondo Club 2019/2020
Joshua can be contacted by email at joshua@legalkuan.com
"The University where you graduate from does not define you, it's what you do with the knowledge which you've learnt that defines you – Joshua"